It is believed that the development of a country's creative economy requires more than just "people." It also needs "spaces" that have the potential to facilitate people coming together and creating an environment and coexistence system that eventually becomes a city. This space must have the ability to accumulate and create value from "assets", as it is an essential element that sets a city apart.
The Creative Economy Agency (CEA) focuses on driving "Creative Cities" by developing small areas into "Creative Economy Districts." This is because when many districts have economic opportunities and good quality of life, it creates a positive sum effect that benefits the entire city.
This website serves as a collection of databases, knowledge and experiences in the development of creative economy districts. to drive towards being a creative city as well as presenting data and analyzing the potential of cities and pilot districts in the network. that will be useful to all sectors interested in developing potential Build local assets To awaken the area to become "Creative Economy Area" that can enhance people's quality of life in a concrete and sustainable way.
Creative City Development
Creative city = ready people x good stuff x creative space
Each city is unique. "Creative city" is a city that has the potential to take advantage of its strengths. whether the geographic coordinates natural resources History, culture, way of life, local skills to innovation as a raw material to create economic value and develop the city to meet the needs of both locals and visitors in various dimensions, including economy, society, culture, environment and education.
Creative cities are therefore not a matter of improving the landscape or developing the city to make it "visitable" alone. It's a city that places a high emphasis on 'living', which means people are well-being, well-being and happy in an environment and atmosphere that encourages the expression of diverse ideas. Attracts the gathering of "people", which is considered the most important capital of every city. People who can pick up the "good stuff" that exists to make the "space" potential for living and growing. This creates employment, generates income, leads to further economic development in the city.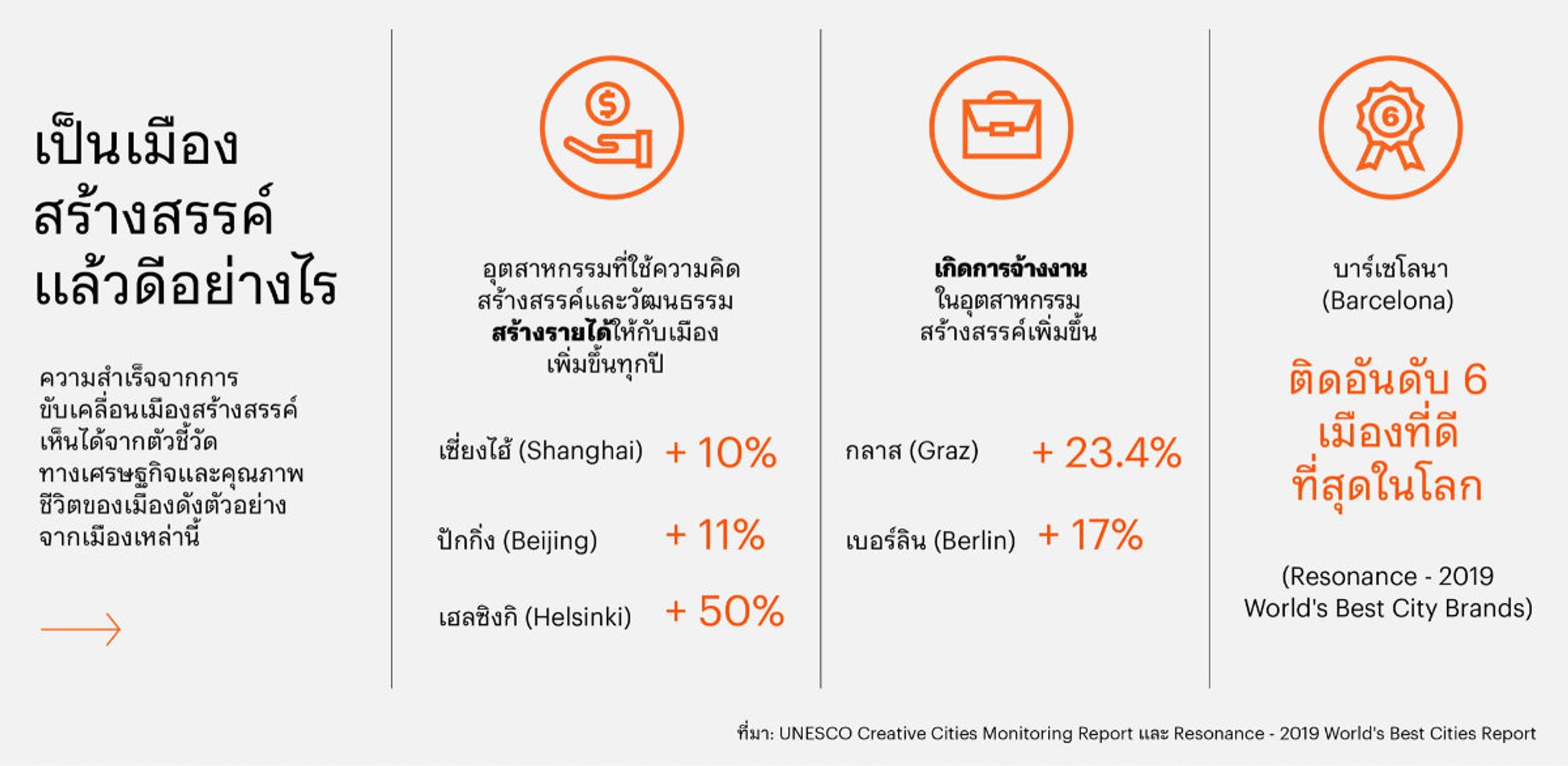 Creative District Development
Creative Economy District. One of the keys to creative city development
"A space that takes advantage of creativity makes people see "opportunity" and "possibility" to do business in the area. to increase spending attract tourists and improve quality of life."
Creative Economy District One of the keys to the development of creative cities
Because no one can conjure up completely new areas for the city. And developing an already existing area is not easy. "Potential of space" is therefore an important question. that rely on the abilities of the city both taking advantage of the existing potential and developing that potential even further.
It is an area that does not require high-value assets and resources. But it can be used in a worthwhile way.
Facilitate research, exchange and collaboration of people to take advantage of small ideas
Creating added value for people, communities, businesses and diverse traditional cultures
Elevate the quality of life with a creative ecosystem that drives well-being
Make the city come alive. Create new economic wealth from existing costs
Increase the competitiveness of the economy. from the district level to the city level.